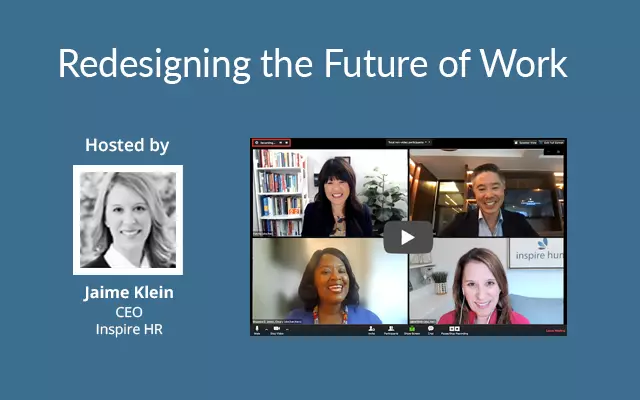 Using Behavioral Insights to Strengthen DEIB
APR 26, 2021
Using Behavioral Insights to Strengthen DEIB
Unconscious bias is more complex than many leaders realize. Bias is more than a way of thinking. Biases are survival instincts—even clinically recognizable through an MRI.
Humans are exposed to 11 million pieces of information every second, yet our brains are capable of processing about 40. So our brains have shortcuts. We make assumptions. We create biases.
What does this behavioral science mean for DEIB champions trying to build inclusive cultures in the workplace?
We discuss the behaviors and habits behind bias and how leaders can build effective structures and programs to advance DEIB given the significant challenge. (Spoiler alert: it's ok for teams to be pushed out of their comfort zone—and they'll perform better because of it)
Wei-Li Chong, U.S President of Mindgym, Shaunna D. Jones, Global Director of Diversity, Equity and Inclusion at Cleary Gottlieb Steen & Hamilton LLP, and Yon Na, organizational effectiveness and leadership expert at Inspire HR bring a wealth of knowledge and experience to discuss:
Recognizing humans' natural biases and how organizations can mitigate the effects
How to align your leadership team around the need and goals for DEIB
Do's and don'ts for DEIB implementation
Impactful metrics to measure DEIB progress
Meet our Panelists:
Wei-Li Chong, U.S. President, MindGym
Wei-Li Chong is the U.S President of MindGym, a behavior change company that has helped business leaders transform their organizations for over 20 years. With a background in human resources and business operations, Wei-Li is an expert in building high-performing cultures that have measurable impact on business performance. Prior to joining MindGym, he served as President of KinderCare, where he oversaw more than 30,000 employees. Wei-Li was tapped for the role after working as Executive Vice President of HR for KinderCare and developing a "people first" philosophy that bridged culture, data and analytics to drive business results. In his current role, Wei-Li now leads Mind Gym's rapid growth in the Americas supporting many of the largest companies to best leverage behavioral science to impact culture and performance.
Shaunna D. Jones, Global Director of Diversity, Equity and Inclusion at Cleary Gottlieb Steen & Hamilton LLP
Shaunna D. Jones is Cleary Gottlieb's Global Director of Diversity, Equity and Inclusion. Based in the New York office, she leads the firm's efforts to advance inclusion and equitable professional development for women, BIPOC, and LGBTQ lawyers and professional staff. Prior to joining Cleary Gottlieb, Shaunna was a Senior Vice President at Laurel Strategies, Inc., a boutique global business advisory and strategic communications firm for leaders, CEOs, and their C-suites. She is a former corporate restructuring partner of Willkie Farr & Gallagher LLP, where she advised private and public companies on financial and operational restructurings.
Yon Na, Inspire HR Expert, Organizational Effectiveness + Leadership
Yon Na is an Expert with Inspire Human Resources who specializes in applying organizational psychology principles to enhance employee engagement, performance, and Diversity, Equity, Inclusion + Belonging initiatives. As a researcher, she focuses on workplace identity and its impact on leadership potential. Since 2003, Yon has worked in Organization Effectiveness, Leadership Development, and Human Resources Management in Fortune 100 and high-growth companies, including Warner Bros., The New York Times, Microsoft, Johnson & Johnson, and Nordstrom.